SE530K Dual-mode Two-way Radio
Production Introduction:
SE530K dual mode radio integrates PoC(press-to-talk over cellular LTE/WCDMA/GSM) and analog to provide public network, private network and mixed networks utilizing broad band and narrow bandwidth convergence technologies.
The PoC network is based on GSM 2G, WCDMA 3G, and LTE 4G network standards, which realize cluster communication in a wide area without distance limitation and ensure instant communication. It has multiple call modes such as group call, single call and good friends call, which can easily cope with various communication scenarios. The powerful functional trunking system adopts an exclusive management platform, which is safe and reliable, ensuring communication safety. In addition, the cluster dispatching station has a visual dispatch function, through activating GPS function, the administrator can track the location details and movement trajectories of terminal users on the APP, making cluster dispatching more accurate. Through the signal network of local sim card network carrier from local market, the radio device could cover the whole country even worldwide.
The analog part is compatible with existing conventional analogue radios. Through the repeater/gateway mode from this terminal, the existing conventional analogue radios could work with PoC network radios. Through two terminals working as gateway bridge, UHF400-480MHz analogue radios could work with VHF136-174MHz analogue radios too.
Product Dimension: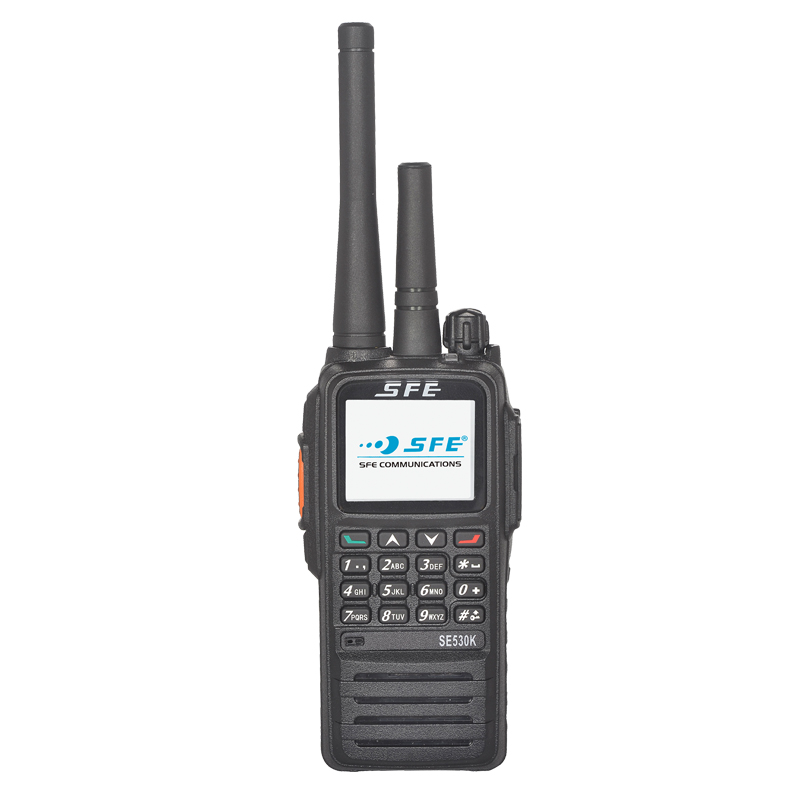 (Height*Width*Depth) excluding antenna 116mm*52mm*31mm
Product Features:
| | |
| --- | --- |
| 1 | 1.8-inch color screen, different backlight modes optional |
| 2 | Dual-mode radio support LTE 4G/WCDMA 3G/GSM 2G and analogue UHF400-480MHz/VHF136-174MHz etc. |
| 3 | Dual antenna, dual mode and dual standby |
| 4 | PoC mode for worldwide communication |
| 5 | Analog mode with powerful output 5W |
| 6 | 4 working modes: dual work, PoC network mode, analog mode, repeater/gateway mode |
| 7 | 2G/3G/4G network can be manually/automatically switched for PoC network mode |
| 8 | GPS positioning function for PoC mode |
| 9 | Support emergency alarm(SOS) for PoC mode |
| 10 | REAL-PTT platform for PoC mode |
| 11 | Support group call, individual call |
| 12 | Displaying the user name and group name for PoC mode, channel name and frequencies for analog mode |
| 13 | Voice Code 4K/8K optional |
| 14 | Signal strength Indicator |
| 15 | Current battery life indicator |
| 16 | Time and date calibration |
| 17 | Key lock/unlock function |
| 18 | Li-ion battery capacity 2600mAh/3500mAh optional |
Specifications:
General Specifications

Operating Voltage

DC:7.4V±10%

Battery Capacity

2600mAh/3500mAh(Li-lon)(optional)

Operating Temperature

-30℃~+60℃

Antenna Impedance

50Ω

Weight

265g

Dimension

116mm*52mm*31mm
Analog Part

Frequency Range

136-174MHz/220-260MHz/350-390MHz/

400-480Mhz/450-520MHz etc.

Channel Number

128CH

Channel Spacing

12.5KHz/25KHz

Frequency Error

±2.5ppm

Receiver (RX)

Bandwidth

25KHz

12.5KHz

RX Sensitivity

≤ 0.25uV

≤ 0.35uV

Intermodulation

≥65dB

≥60dB

Adjacent Channel Selectivity

≥70dB

≥70dB

Spurious Response Rejection

≥45dB

≥36dB

Hum and Noise

≥40dB

≥40dB

Audio Response

(+)1-3dB(0.3-3KHz)

(+)1-3dB(0.3-3KHz)

Audio Distortion

≤ 5%

Transmitter (TX)

Bandwidth

25KHz

12.5KHz

Output Power

VHF:5W/1W UHF:4W/1W

Analog Modulation

16KφF3E

11KφF3E

Modulation Limit

±5.0

±2.5

Spurious Emissions

≥40dB

≥36dB

Adjacent Channel Power

≥70dB

≥60dB

FM Hum and Noise

≥45dB

≥45dB

Audio Response

(+)1-3dB(0.3-3KHz)

(+)1-3dB(0.3-3KHz)

Audio Distortion

≤5%

Frequency Stability

±2.5ppm
POC Part

Frequency Range

B1/B3/B5/B7/B8/B20@FDD LTE

B38/B40/B41@TDD LTE

B1/B5/B5@WCDMA

B3/B8@GSM

B1/B2/B3/B4/B5/B7/B8/B28@FDD LTE

B40@TDD LTE

B1/B2/B5/B8@WCDMA

B2/B3/B5/B5@GSM

B2/B4/B5/B12/B13/B14/B66/B71@FDD LTE

B2/B4/B5@WCDMA

Operating System

LINUX

GPS

Yes

SOS

Yes

Working Mode

Semi-Duplex

RX Sensitivity

LTE ≤-96dBm(4G)

GSM/WCDMA≤-108dBm(2G/3G) ;

RF Power

23dBm≤P≤30dBm

Audio Output

500mW

Working Temperature

-20°C - 60°C

Storage Temperature

-30°C - 80°C
Application Scenarios:
Construction, airport, seaport, railway station,security guard, property management, shopping mall, hotel, warehouse, logistics, education, retail, manufacturing, institution, surveying and mapping, hospitality, restaurant, school and outdoor activities etc.